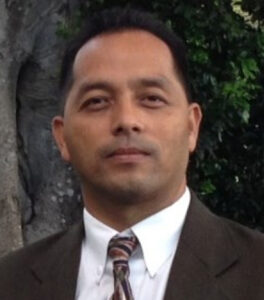 James Cruz
Protective Security Advisor
Cybersecurity & Infrastructure Security Agency
https://www.cisa.gov/
Mr. Cruz currently serves as the Protective Security Advisor (PSA) for the Honolulu District, which includes Hawaii, Guam, the Commonwealth of the Northern Marianas islands, and American Samoa; where he supports the homeland security efforts, serving in an advising and reach-back capacity for State and Territory Homeland Security Advisors, contributing to the development of the national risk picture by assisting with the identification, assessment, monitoring, and minimizing of risk to critical assets at the local level.
In this role he ensures all DHS critical infrastructure protection programs and services are delivered to state, local, and tribal stakeholders and private sector owners and operators serving in the Pacific District. He participated in incident response and incident management support activities and provided direct support to National Special Security Events (NSSEs) and Special Event Assessment Rating (SEAR) events.
Previously, Mr. Cruz was the Senior Intelligence Officer with DHS, Office of Intelligence and Analysis (I&A) detailed to the 78th fusion center in the U.S. Territory of Guam in an advisory role to the local administration. He provided guidance to law enforcement stakeholders to promote information sharing and assist the implementation and execution of the Intelligence mission and production of intelligence reporting at the National level.
Prior to joining DHS, Mr. Cruz, was the Intelligence Officer to the Joint Task Force – Homeland Defense (JTF-HD). He served as the senior intelligence representative to DoD and executes operations to provide Civil Support (CS) or Foreign Humanitarian Assistance (FHA) for all hazards Intel including responding to and recovering from natural or man-made disasters and defeats threats in the land domain in order to retain key/critical infrastructure and protect the forces within the Joint Operations Area (JOA). The JTF-HD JOA is the land domain areas of the state of Hawaii, the U.S. Territories of Guam, American Samoa, and Jarvis Island; the Commonwealth of the Northern Mariana Islands (CNMI); the Compact States, which include the Federated States of Micronesia (FSM), the Republic of the Marshall Islands (RMI), and the Republic of Palau (ROP); and the U.S. possessions of Wake Island, Midway Island, Johnston Island, Baker Island, Howland Island, Palmyra Atoll, and Kingman Reef.
Mr. Cruz retired from the United States Air Force (USAF) as a Special Agent with the Air Force Office of Special Investigations (AFOSI). He is an experienced intelligence, law enforcement, and security professional with over twenty-one years' experience conducting investigations, intelligence analysis and collections as well as complex counterintelligence (CI), personnel security, law enforcement investigations for US Air Force and Department of Defense (DoD) interests world-wide.
Mr. Cruz holds a Bachelor of Science with Emphasis in Education (Criminal Justice Major), from Wayland Baptist University, Honolulu, HI.
Sessions
U.S. DHS CISA Regional Resiliency Assessment Program (RRAP)

Presentation will provide an overview on the on-going Program supporting the U.S. Territory of Guam and the Commonwealth of the Northern Mariana Island Ports. Purpose: Identify and assess the efficacy of alternate port concepts, restoration, hub and spoke, and critical lifelines supporting operations.  The goal of the RRAP is to generate greater understanding and action […]