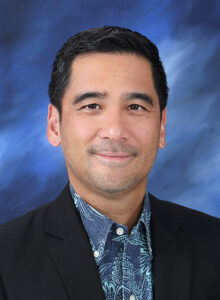 Patrick Bulaon
Vice President and General Manager, Guam / Micronesia
Matson Inc.
https://www.matson.com/
Patrick is the Vice President and General Manager – Guam and Micronesia for Matson in Guam and Micronesia. Originally from Guam, Patrick previously served in various sales and operations management positions for more than 28 years in Guam, the CNMI, Micronesia, South East Asia, and the South Pacific for Matson, ExxonMobil and PacifiCare Asia Pacific.
In his role with Matson, Patrick works to uphold the company's excellent on-time service record and provide reliable and lifeline transportation networks for customers in the region.
Before joining Matson, Patrick worked at affiliates of Exxon Mobil including Mobil Oil Guam, Inc., Mobil Oil Fiji, and ExxonMobil Asia Pacific Singapore. His last position held at Exxon Mobil Asia Pacific Regional Field Marketing Manager overseeing marketing activities in Thailand, New Zealand, Australia, and Indonesia.
Patrick was also based in Fiji and Singapore, holding a number of positions including Fiji country manager with responsibility for government, community relations, sales, and operations within the country. In Singapore, he held a number of regional management roles overseeing commercial and retail business across Asia Pacific countries.
Prior to his work abroad, Patrick launched his career in Mobil Oil Guam progressing through several roles in Sales and Operations.
Patrick is a member of The Rotary Club of Guam and is on the boards of the Employer's Council of Guam and iRecycle. He holds a Bachelor of Business Administration-Finance degree from Marquette University in Milwaukee, Wisconsin.