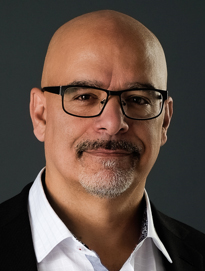 Robert Marshy
Chief Technology Officer
GSTS
https://gsts.ca/
A former Systems Engineer in the Royal Canadian Navy, and Senior Program Engineer in National Defence, Rob brings over 30 years of experience in advanced technology development and naval systems solutions, and successfully managed major advanced-technology programs. Rob is currently CTO as GSTS.  GSTS is leading-edge Artificial Intelligence company focused on the maritime sector. Using the latest developments in Artificial Intelligence, their systems process enormous volumes of satellite and terrestrial data sets in real-time to provide decision-making information for the maritime sector to save lives, energy, and the environment. In short, they are experts at turning abstract data into concrete, usable information.
Sessions
OCIANA: Collaborative Platform for Logistics Optimization and Security

This presentation introduces OCIANA, an intuitive web-accessed platform that provides both security and logistics optimization, backed by AI and global satellite data. Several ports, pilotages and vessel operators contributed directly to OCIANA's growing suite of capabilities. This will include a live demonstration.