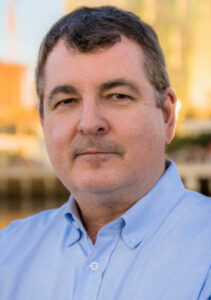 S. Greg Borossay
Principal, Maritime Business Line
Port of San Diego
https://www.portofsandiego.org/
Greg Borossay joined the Port of San Diego in October 2017. He is responsible for development of the Ports automotive, bulk, break-bulk, container, and project and carrier cargo accounts.  Greg is also responsible for cargo, rail and truck development for the Port.  Since joining the Port of San Diego Borossay as been involved in the recruitment of G2 Ocean, Saga Welco and US Oceans for regular monthly liner service.
Focusing on ocean and intermodal business development, Borossay has a strong background in rail, truck, and inland operations.  While at the Port of Portland he worked on development of additional cargo accounts interested in establishing distribution centers in the Portland region.  His background includes an extensive operations experience working for Sea-Land Services Inc., Hanjin Shipping and Hapag-Lloyd prior to joining the Port of Portland.
Borossay was been responsible for direct recruitment of Zim Lines Shipping, China Shipping, Yang Ming and "K" Line as direct calling carriers at the Port of Portland.  Borossay has been the lead at the Port of Portland for four governor trade missions to Asia. Borossay signed new contracts with Westwood Shipping and Gearbulk.
EDUCATION:
Whittier Law School, Costa Mesa CA – 1997-2002 — Focus on maritime transportation and finance
Member, District of Columbia Bar – 2003 — Active Status with Maritime Law Certification
MBA ‑ American Graduate School, Glendale AZ – 1987-88 — Focus on international trade and finance
BA – U.C. Berkeley, Berkeley CA – 1980-84 — Political economies of industrial societies
ORGANIZATIONS:
San Diego World Trade Center Liaison – 2017-Present
Northwest China Council – Board Member – 2006-2010
State of Oregon/Fujian Sister State Board – 2009-2018
Oregon Wheat Commissioner – 2012-2016
Sessions
Session #3: M5 Marine Highway

Spanning from northern Washington to southern California, the M5 Marine Highway provides an alternative to land-side transportation services to reduce congestion and greenhouse gases. Transporting goods by barge or ship along the navigable waters of the U.S. west coast is proving to be eight times more efficient than tractor-trailers and double what is achievable by […]